Why Buy From Soulful Herbals?
At Soulful Herbals, our mission is to provide the highest quality herbal products. We select only the finest quality herbs, farmed using sustainable and humane farming methods. We offer both high quality raw herbs as well as proprietary formulations. We use only the finest ingredients from farms that meet our strict Quality Assurance Standards as well as GMP standards. Each product selected in the Soulful Herbals line has been the focus of thousands of hours of research, subjected to countless purity tests and assays to assure potency. Our quality is second to none as each of our products must pass through a rigorous USA quality control process. We stand behind all our products with a guarantee for purity, potency and freshness.
Kratom, Mitragyna Speciosa, is a tropical evergreen related to coffee. It's leaves are harvested, dried and sometimes fermented. It is revered for its most potent alkaloid Mitragynine and but other alkaloids contribute to its overall effects. Kratom has been used traditionally in Indonesia for centuries.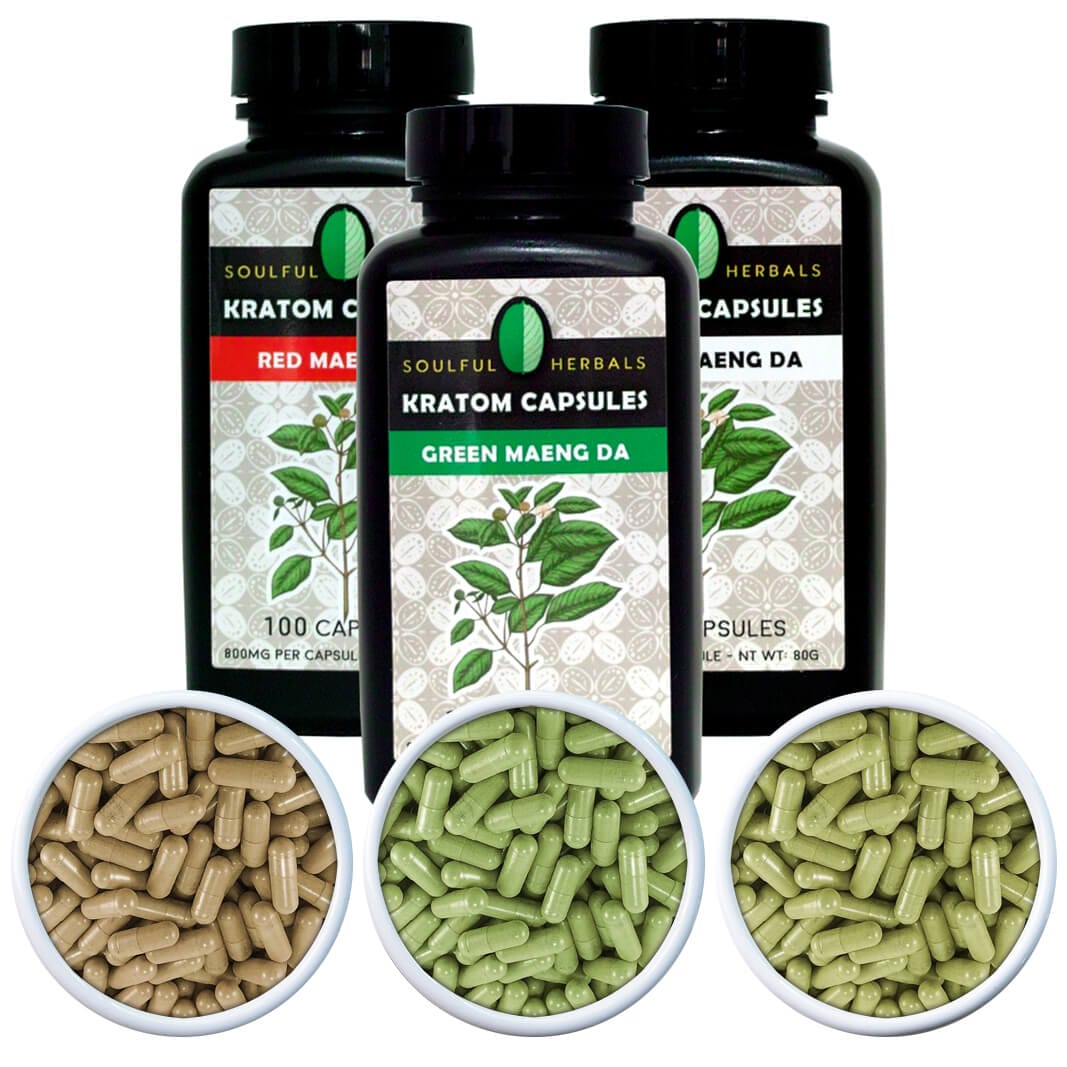 Soulful Herbals has some of the best Kratom Capsules in the industry. Our, 00-sized, capsules are stuffed with 620mg of our, high quality, kratom powder in each capsule. Not only do we use the best kratom, there's also more kratom in each capsule compared to the competition. Choose from White Maeng Da, Red Maeng Da and Green Maeng Da kratom capsules.
One of our most popular products is 1kg of kratom split into 2 strains. 500g x 2 of the strains of your choice!
Very fast shipping and the product is amazing I would recommend this shop to anyone!
I have ordered a few times with Soulful Herbals and I am very pleased with the product. Their custom services is also great
I have dealt with other Kratom company's but this is by far the best one. The customer service is the reason why I will never switch to another company. If you need a good reliable source this is the one hands down.